Foliar Micromorphology and Histochemical Localization of Specific Metabolites in the Leaves of Celosia argentea L.
Keywords:
Celosia argentea; foliar epidermis; histochemistry; stomata; trichome
Abstract
Celosia argentea is an essential vegetable that is cultivated in the western part of Africa. This species has a growing reputation for its role in alleviating nutritional challenges and has found great application as herb of therapeutic importance in many regions of the world. This study investigated the foliar micromorphology and the histochemistry of Celosia argentea. Scanning electron microscopy (SEM), energy dispersive X-ray (EDX) spectrometry and staining agents were used to evaluate the micromorphology of the plant. The result revealed sunken amphistomatic stomata distribution on both surfaces of the leaf. Anomocytic and anisocytic stomata complexes were also observed on both epidermal surfaces. A definitive protuberance was observed on the polar end of the adaxial stomata. Stomata apparatus was ellipsoidal with a mean length of 19.60 ± 0.56 µm, while the mean stomata densities on the adaxial and abaxial surfaces were 83.5 ± 2.12 mm‑2 and 194.18 ± 3.70 mm‑2 respectively. Trichomes (with a length of 100.94 ± 9.44 µm) were sparsely distributed on both surfaces; glandular trichomes were observed only on the abaxial surface. The EDX spectrometry revealed the presence of iron, oxygen, sodium, calcium, potassium and sulphur as the major elements on the leaf, while histochemical tests revealed the presence of polyphenols, starch and lipids. Our results could be used to support and validate the information database on the anatomy of Celosia argentea.
References
Adediran OA, Gana Z, Oladiran JA, Ibrahim H (2015). Effect of age at harvest and leaf position on the yield and nutritional composition of Celosia argentea. International Journal of Plant and Soil Science 5:359-365.
Akyol Y (2014). The morphological and anatomical studies on endemic Crocus biflorus . Miller. Pakistan Journal of Botany 46(2):573-578.
Albert S, Sharma B (2013). Comparative foliar micromorphological studies of some Bauhinia (Leguminosae) species. Turkish Journal of Botany 37(2):276-281.
Anifat OB, Olaniran TO, Sefiu AS (2017). Leaf epidermal studies of some Solanum (Solanaceae) species in Nigeria. Phytologica Balcanica 23(1):55-63.
Brien TP, Feder N, McCully ME (1964). Polychromatic staining of plant cell walls by Toluidine Blue. Protoplasma 59(2):368-373.
Fank-de-Carvalho SM, Báo SN, Brasília B (2011). Anatomical and ultrastructural aspects of Amaranthaceae leaves from Chapada dos Veadeiros, Goiás State, Brazil. Acta Microscopica 18(Supp C):605-606.
Ferreira B, Falcioni R, Guedes LM, Avritzer SC, Antunes WC, Souza LA, Isaias RMS (2017). Preventing false negatives for histochemical detection of phenolics and lignins in PEG-Embedded plant tissues. Journal of Histochemistry and Cytochemistry 65(2):105-116.
Franks PJ, Beerling DJ (2009). Maximum leaf conductance driven by CO2 effects on stomatal size and density over geologic time. Proceedings of the National Academy of Sciences 106(25):10343-10347.
Glas JJ, Schimmel BC, Alba JM, Escobar-Bravo R, Schuurink RC, Kant MR (2012). Plant glandular trichomes as targets for breeding or engineering of resistance to herbivores. International Journal of Molecular Science 13(12):17077-17103.
Gottschalk W, Wolff G (2012). Induced mutations in plant breeding. Springer Science & Business Media.
Guo C, Ma L, Yuan S, Wang R (2017). Morphological, physiological and anatomical traits of plant functional types in temperate grasslands along a large-scale aridity gradient in northeastern China. Scientific Reports 7:40900.
Gupta S, Lakshmi AJ, Manjunath MN, Prakash J (2005). Analysis of nutrient and antinutrient content of underutilized green leafy vegetables. LWT-Journal of Food Science and Technology 38(4):339-345.
Huchelmann A, Boutry M, Hachez C (2017). Plant glandular trichomes: natural cell factories of high biotechnological interest. Plant Physiology 175(1):6-22.
Illoh HC (1995). Foliar epidermis and petiole anatomy of four species of Celosia L. in Nigeria. Feddes Repertium 106(1-5):15-23.
Israelsson M, Siegel RS, Young J, Hashimoto M, Iba K, Schroeder JI (2006). Guard cell ABA and CO2 signaling network updates and Ca2+ sensor priming hypothesis. Current Opinion in Plant Biology 9(6):654-663.
Iwu MM (2014). Handbook of African medicinal plants. CRC Press.
Kantachot C, Chantaranothai P, Thammathaworn A (2007). Contribution to the leaf anatomy and taxonomy of Thai Myrtaceae. Tropical Natural History 7(1):35-45.
Karthiyayini R (2015). Nithiya. Pharmacognostic and preliminary phytochemical studies of Celosia argentea L. Leaf International Journal of Pharmacy and Pharmaceutical Research 7(2):237-239.
Kim TH, Böhmer M, Hu H, Nishimura N, Schroeder JI (2010). Guard cell signal transduction network: advances in understanding abscisic acid, CO2, and Ca2+ signaling. Annual Review of Plant Biology 61:561-591.
Krouk G, Lacombe B, Bielach A, Perrine-Walker F, Malinska K, Mounier E, … Ljung K (2010). Nitrate-regulated auxin transport by NRT1. 1 defines a mechanism for nutrient sensing in plants. Developmental Cell 18(6):927-937.
Lotz LAP, Van De Wiel CCM, Smulders MJM, Prota N, Bouwmeester HJ, Jongsma MA (2014). Genetically modified crops and sustainable agriculture: A proposed way forward in the societal debate. NJAS - Wageningen Journal of Life Sciences 70:95-98.
Metcalfe CR, Chalk L (1969). Anatomy of the dicotyledons: Vol 1. Systematic anatomy of leaf and stem, with a brief history of the subject. Oxford, Clarendon Press.
Molehin OR, Adefegha SA, Oboh G, Saliu JA, Athayde ML, Boligon AA (2014). Comparative study on the phenolic content, antioxidant properties and HPLC fingerprinting of three varieties of Celosia species. Journal of Food Biochemistry 38(6):575-583.
Momin RK, Kadam VB (2011). Histochemical investigation of different organce of genus Sesbania of Marathwada region in Maharashtra. Journal of Phytology 3:52-54.
Ogundipe OT, Kadiri AB (2013). Comparative foliar epidermal morphology of the West African species of Amaranthaceae Juss. Feddes Reperterium 123(2):97-116.
Ogungbenle HN, Otemuyiwa FF (2015). Food properties and amino acid composition of Celosia spicata leaves. Advances in Analytical Chemistry 5(1):1-7.
Ohikhena FU, Wintola OA, Afolayan AJ (2017). Micromorphological studies of the Loranthaceae, Phragmanthera capitata (Sprengel) Balle. Journal of Botany 5603140.
Okpako E, Ajibesin KK (2015). Antimicrobial activity of Celosia argentea L. American Journal of Research Communication 3(3):123-133.
Ranjan BR, Deokule SS (2013). Pharmacognostic and phytochemical investigation of Celosia argentea Linn. International Research Journal of Pharmacy 4:138-144.
Roelfsema MR, Hedrich R (2005). In the light of stomatal opening: new insights into 'the Watergate'. New Phytologist 167(3):665-691.
Sá RD, Santana AS, Silva FC, Soares LAL, Randau KP (2016). Anatomical and histochemical analysis of Dysphania ambrosioides supported by light and electron microscopy. Revisa Brasileira de Farmacognosia 26(5):533-543.
Saheed SA, Illoh HC (2010). Important morphological characters in several species of Cassiinae (Leguminosae) in South-Western Nigeria. Notulae Scientia Biologicae 3(2):47-56.
Schliemann W, Cai Y, Degenkolb T, Schmidt J, Corke H (2001). Betalains of Celosia argentea. Phytochemstry 58(1):159-165.
Sereena K, Sreeja K (2014). Comparative anatomical and histochemical studies of Achyranthes aspera L. and Cyathula prostrata L. blume, source plants of the drug Apamarga. International Journal of Pharmacy and Pharmaceutical Research 6(3):658-671.
Sharaibi OJ, Afolayan AJ (2017). Micromorphological characterization of the leaf and rhizome of Agapanthus praecox subsp. praecox Willd. (Amaryllidaceae). Journal of Botany doi.org/10.1155/2017/3075638.
Sharma P, Vidyasagar G, Singh S, Ghule S, Kumar B (2010). Antidiarrheal activity of leaf extract of Celosia argentea in experimentally induced diarrhea in rats. Journal of Advanced Pharmaceutical Technology and Research 1(1):41-48.
Varadharaj V, Muniyappan J (2017). Phytochemical and phytotherapeutic properties of Celosia species - a review. International Journal of Pharmacy and Pharmaceutical Research 9(6):802-825.
Wu QB, Wang Y, Guo M (2011). Triterpenoid saponins from the seeds of Celosia argentea and their anti-inflammatory and antitumor activities. Chemical and Pharmaceutical Bulletin 59(5):666-667.
Xiao K, Mao X, Lin Y, Xu H, Zhu Y, Caib Q, … Zhang J (2017). Trichome, a functional diversity phenotype in plant. Molecular Biology 6:183-189.
Xue QA, Sun L, Guo ML, Wang Y, Zhang G, Wang XK (2011). Two new compounds from Semen celosiae and their protective effects against CCl4-induced hepatotoxicity. Natural Product Research 25(8):772-780.
Zheng XL, Xing FW (2009). Ethnobotanical study on medicinal plants around Mt. Yinggeling, Hainan Island, China. Journal of Ethnopharmacology 124(2):197-210.
Zhigila DA, Sawa FBJ, Aluko TA, Oladele FA, Abdul Rahaman AA (2015). Leaf epidermal anatomy in five varieties of Capsicum annuum L. Solanaceae. American Journal of Experimental Agriculture 5(4):392-399.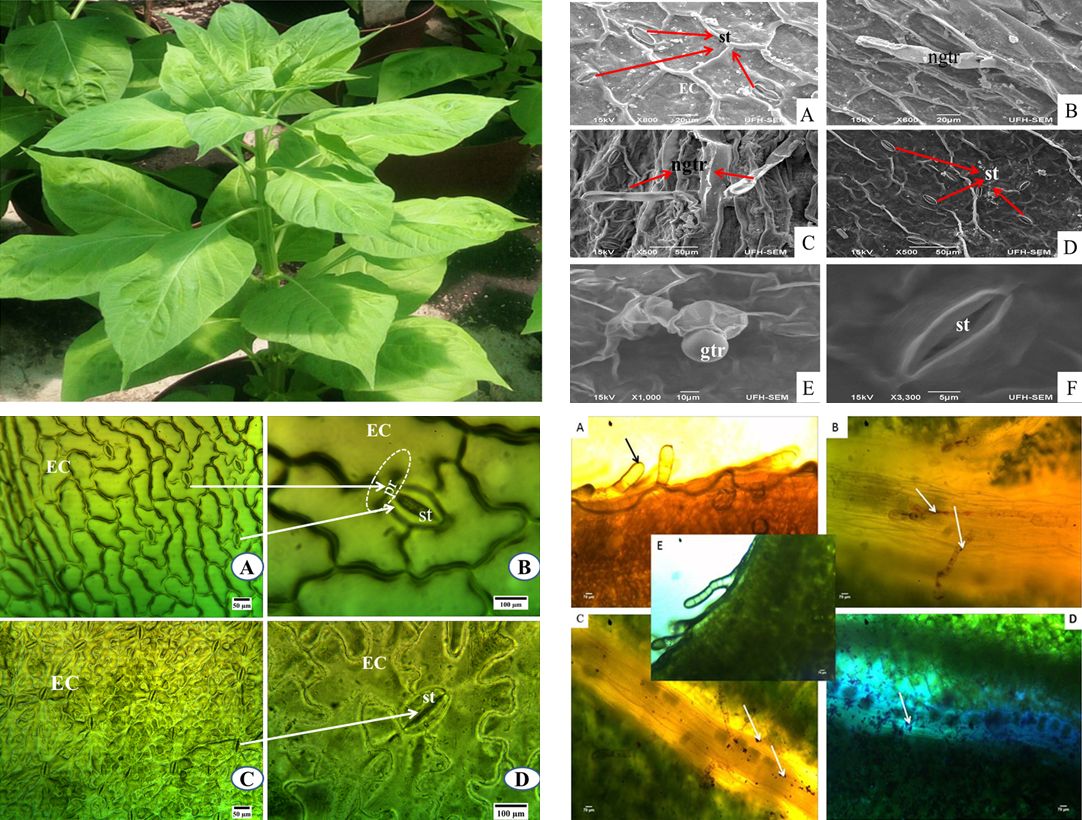 Downloads
How to Cite
ADEGBAJU, O. D., OTUNOLA, G. A., & AFOLAYAN, A. J. (2019). Foliar Micromorphology and Histochemical Localization of Specific Metabolites in the Leaves of Celosia argentea L. Notulae Botanicae Horti Agrobotanici Cluj-Napoca, 47(4), 1128–1135. https://doi.org/10.15835/nbha47411522
Section
Research Articles
CITATION
DOI: 10.15835/nbha47411522
License
License:
© Articles by the authors; licensee UASVM and SHST, Cluj-Napoca, Romania. Papers published in the journal Notulae Botanicae Horti Agrobotanici Cluj-Napoca are open access distributed under the terms and conditions of the Creative Commons Attribution License (http://creativecommons.org/licenses).

Open Access Journal:
The journal allows the author(s) to retain publishing rights without restriction. Users are allowed to read, download, copy, distribute, print, search, or link to the full texts of the articles, or use them for any other lawful purpose, without asking prior permission from the publisher or the author.