Cytological Investigation in Two Mutants of the Hybrid Grapevine 'Niagara'
Keywords:
meiotic abnormalities; microsporogenesis; pollen fertility; seedlessness; spontaneous autotetraploid; Vitis
Abstract
'Niagara' is a hybrid table grape (V. vinifera × V. labrusca). Several spontaneous somatic mutants from this grapevine have already been described. However, cytological information about these mutants is scarce. Therefore, studies in the microsporogenesis have been carried out in two of these mutants, a seedless and a large berry mutant (giant mutant). A low percentage of abnormalities such as precocious chromosome segregation, bivalent not aligned, laggard and stickiness chromosomes were seen in both mutants.  A merging process of microspores was observed in several tetrads in the seedless mutant: the microspore came together by large cytoplasmic bridges giving rise to a large and amorphous single-celled tetrad, which eventually collapsed. The giant mutant showed 10.29% of tetrads with microcytes. However, these tetrad abnormalities did not hinder pollen viability. Significant differences were seen concerning stomata and pollen grain sizes, stomata frequency and anther number per flower between the mutants. The chromosome count at diakinesis (n=19) and in diploid tapetal cells (2n=38) clarified the fact that the seedless somatic mutation was not associated with any ploidy event. Conversely, the giant mutant showed n=38 at diakinesis and 2n=76 in diploid tapetal cells, pointing to a case of spontaneous chromosome duplication. Since these abnormalities did not disturb the percentage of pollen viability very much, in both mutants (higher than 86%), the seedless one may be used as a male parent in crossing, regarding the desirable seedlessness character, while the mutant giant may be employed as female parent for the obtainment of seedless triploid plants.
References
Alexander MP (1980). A versatile stain for pollen, fungi, yeast and bacteria. Stain Technology 55(1):13-18.
Benavente E, Orellana J (1991). Chromosome differentiation and pairing behavior of polyploids: an assessment on preferential metaphase I associations in colchicine-induced autotetraploid hybrids within the genus Secale. Genetics 128(2):433-442.
Bergamini C, Cardone MF, Anaclerio A, Perniola R, Pichierri R, Genghi R, ... Antoniacci D (2013). Validation assay of p3_VvAGL11 marker in a wide range of genetic background for early selection of stenospermocarpy in Vitis vinifera L. Molecular Biotechnology 54(3):1021-1030.
Boss PK, Thomas MR (2002). Association of dwarfism and floral induction with a grape 'green revolution' mutation. Nature 416(6883):847-850.
Collet SAO, Collet MA, Machado MFPS (2005). Differential gene expression for isozymes in somatic mutants of Vitis vinifera L. (Vitaceae). Biochemical Systematics and Ecology 33(7):691-703.
De Storme N, Geelen D (2014). The impact of environmental stress on male reproductive development in plants: biological processes and molecular mechanisms. Plant Cell Environment 37(1):1-18.
Gupta RC, Bala S, Shama S, Kapoor M (2013). Cytomorphological Studies in some species of Chrysanthemum L. (Asteraceae). Chromosome Botany 8(3):69-74.
Howell WM, Black DA (1980). Controlled silver-staining of nucleolus organized regions with a protective colloidal developer: a 1-step method. Experientia 36(8):1014-1015.
Hu Z, Zhang M, Wen Q, Wei J, Yi H, Deng X (2007). Abnormal microspore development leads to pollen abortion in a seedless mutant of 'Ougan' mandarin (Citrus suavissima Hort. ex Tanaka). Journal of the American Society for Horticultural Science 132(6):777-782.
Joshi P, Verma RC (2004). High frequency production of colchicine induced autotetraploids in faba bean (Vicia faba L.). Cytologia 69(2):141-147.
Kumar A, Singh BK, Meena HS, Ram B, Singh VV, Singh D (2015). Cytogenetical investigations in colchicine-induced tetraploids of Brassica fruticulosa: an important wild relative of cultivated Brassicas. Cytologia 80(2):223-230.
Le Comber SC, Ainouche ML, Kovarik A, Leich AR (2010). Making a functional diploid: from polysomic to disomic inheritance. New Phytologist 186(1):113-122.
Maia JDG (2012). A origem da videira Niagara [The origin of Niagara grapevine]. In: Maia JDG, Camargo HA (Eds). O cultivo da videira Niagara no Brasil [The cultivation of Niagara grapevine in Brazil]. Embrapa, Brasília pp 15-22.
Me G, Sacerdote S, Vallania R (1984). Osservazioni sulla meiosi in cellule del polline di Vitis vinifera L. (cv. Barbera) diploide e tetraploide. [Meiotic observations in the pollen mother cells of diploid and tetraploid V. vinifera L. (cv. Barbera)]. Vitis 23:195-201.
Narasimham B, Mukherjee SK (1970). Seed fertility in tetraploid grapes and their crosses with diploids. Vitis 9:177-183.
Olmo HP (1952). Breeding tetraploid grapes. Proceedings of the American Society for Horticultural Science 59:285-290.
Park SM, Wakana A, Kim JH, Jeong CS (2002). Male and female fertility in triploid grapes (Vitis complex) with special reference to the production of aneuploidy plants. Vitis 41(1):11-19.
Pierozzi NI, Moura MF (2014). Cytological analyses in 'Niagara Branca' grape and in its somatic mutant 'Niagara Rosada'. Notulae Botanicae Horti Agrobotanici Cluj-Napoca 42(2):460-465.
Pimentel-Gomes F, Garcia CH (2002). Estatística aplicada a experimentos agronômicos e florestais [Applied statistics to agronomic and forest experiments]. FEALQ, Piracicaba.
Pires EJP, Pommer CV, Passos IRS, Terra MM (1988). Mutante somático sem sementes em videira 'Niagara Rosada' [Seedless somatic mutant in the grapevine 'Rosy Niagara']. Bragantia 47(2):171-176.
Raj AS, Seethaiah L (1969). Karyotype analysis and meiotic studies in three varieties of grapes (Vitis vinifera L.). Cytologia 34(3):475-483.
Raj AS, Seethaiah L (1973). Cytological studies in grape (Vitis vinifera L.). Cytologia 38(4):549-557.
Ramming DW (2008). 'Thomcord' grape. HortScience 43:945-46.
Ray PK (2002). Breeding tropical and subtropical fruits. Narosa Pub. House, New Delhi.
Reisch BI, Pratt C (1996). Grapes. In: Janick J, Moore JN (Eds). Fruit Breeding, volume II: Vine and Small Fruits Crops. John Wiley & Sons Inc., New Jersey pp 297-369.
Sato S, Peet MM, Gardner RG (2001). Formation of parthenogenetic fruit, undeveloped flowers and aborted flowers in tomato under moderately elevated temperature. Scientia Horticulturae 90:243-245.
Srivastava HC (1977). Chromosome behavior of a spontaneous autotetraploid guava (Psidium guajava L.). Cytologia 42(3-4):389-394.
Sousa JSI (1959). Mutações somáticas em videiras [Somatic mutations in grapevine]. Bragantia 18(27):387-415.
Staudt G (1995). Some remarks on triploid grapevines. Vitis 34(2):129-130.
Staudt G, Kassrawi M (1972a). Die meiosis von di- und tetraploidem Vitis vinifera 'Riesling' [The meiosis of di and tetraploids Vitis vinifera 'Riesling']. Vitis 11:89-98.
Staudt G, Kassrawi M (1972b). Die Pollenfertilität di-und tetraploider Reben Vitis vinifera 'Riesling' [Pollen fertility of di and tetraploid grapevine Vitis vinifera 'Riesling']. Vitis 11:269-279.
Stout AB (1936). Seedlessness in grapes. New York State Agricultural Experimental Station, Geneva.
This P, Lacombe T, Thomas MR (2006). Historical origins and genetic diversity of wine grapes. Trends in Genetics 22(9):511-519.
Varoquaux F, Blanvillain R, Delseny M, Gallois P (2000). Less is better: new approaches for seedless fruit production. Trends in Biotechnology 18(6):233-242.
Vasconcelos MC, Greven M, Winefield CS, Trought MCT, Raw V (2009). The flowering process of Vitis vinifera: a review. American Journal of Enology and Viticulture 60(4):411-434.
Vezzulli S, Leonardelli L, Malossini U, Stefanini M, Velasco R, Moser C (2012). Pinot Blanc and Pinot Gris arose as independent somatic mutations of 'Pinot Noir'. Journal of Experimental Botany 63(18):6359-6369.
Wagner E (1958). Über spontane tetraploide mutanten von Vitis vinifera L. [About a spontaneous tetraploid mutant in Vitis vinifera L.]. Vitis 1:197-217.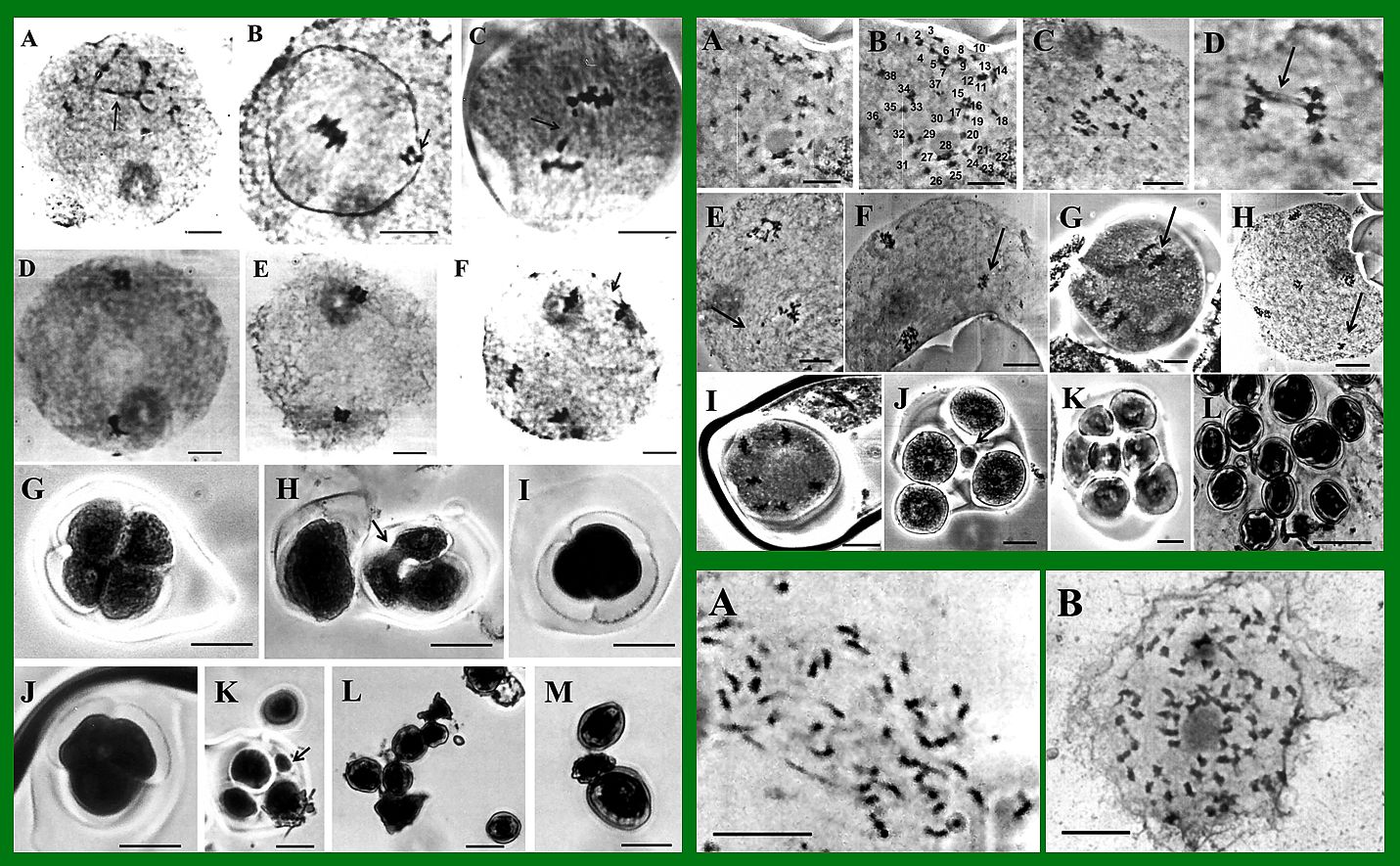 Downloads
How to Cite
PIEROZZI, N. I., & MOURA, M. F. (2019). Cytological Investigation in Two Mutants of the Hybrid Grapevine 'Niagara'. Notulae Botanicae Horti Agrobotanici Cluj-Napoca, 47(3), 913–920. https://doi.org/10.15835/nbha47311470
Section
Research Articles
CITATION
DOI: 10.15835/nbha47311470
License
License:
© Articles by the authors; licensee UASVM and SHST, Cluj-Napoca, Romania. Papers published in the journal Notulae Botanicae Horti Agrobotanici Cluj-Napoca are open access distributed under the terms and conditions of the Creative Commons Attribution License (http://creativecommons.org/licenses).

Open Access Journal:
The journal allows the author(s) to retain publishing rights without restriction. Users are allowed to read, download, copy, distribute, print, search, or link to the full texts of the articles, or use them for any other lawful purpose, without asking prior permission from the publisher or the author.